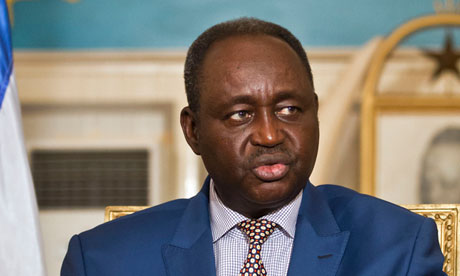 March 25,2013 YAOUNDE, (Xinhua) — Central African Republic President Francois Bozize landed in the east of Cameroon after fleeing the capital Bangui early Sunday, a source of the Cameroonian Defense Ministry told Xinhua.
A helicopter of the presidency of Central African Republic carrying Bozize on board landed at 6:00 p.m. local time at the aerodrome of Batouri, the capital of the department of Kadey, in the east of Cameroon.
Accompanying Bozize on board the aircraft were his two sons and his aide-de-camp.
"Yes, he landed there," Mebe Ngo'o Edgar Alain of the ministry confirmed to Xinhua on telephone on Sunday night.
Bozize left the presidential palace at least 30 minutes before Seleka rebels launched the final assault on the compound, the presidency disclosed after his flight.
Bozize and his entourage were led to a residence in Kadey, where a local source told Xinhua that the president appeared to have fled rebels in a hurry, as he brought nothing with him.
His whereabouts remained a mystery after rebels seized the palace and declared control of Bangui.
Seleka, a loose rebel coalition of five factions, made a breakthrough this week in its southward push since launching an insurgency in December 2012, when they accused the government of failing to carry out a series of peace accords signed in the past five years.
Bozize and Seleka in January signed a peace accord in the Gabonese capital Libreville. The rebels resume attacks recently after giving the government an ultimatum to honor the agreement, especially the integration of Seleka fighters into the national army and the pullout of South African and Ugandan troops deployed in Central African Republic.