At least 13 killed in co-ordinated attacks by armed secessionists in Mombasa and Kilifi as rest of country votes peacefully
David Smith in Nairobi
(Thegurardian) 4 March 2013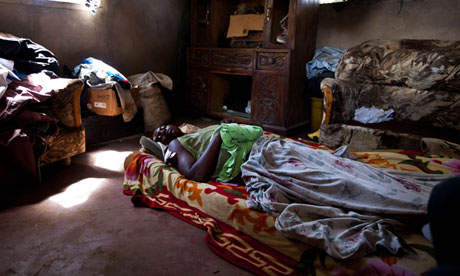 Violence has flared on election day in Kenya, with at least 13 people killed in co-ordinated attacks on the coast.
A group of 200 Mombasa Republican Council (MRC) secessionists armed with guns, machetes and bows and arrows set a trap for police before dawn, killing five officers, the Kenyan police inspector general, David Kimaiyo, said. One attacker also died.
A second attack by secessionists in nearby Kilifi killed one police officer and five attackers, Kimaiyo said.
A Kilifi police official, Clemence Wangai, said seven people had died in that assault, including an election official.
The separatist group denied any responsibility for the attacks, however. "We are not responsible for any attacks anywhere in this region," the MRC spokesman Mohammed Rashid Mraja told the Reuters news agency, adding that the group only sought change through peaceful means.
Kenya is facing a huge test as it seeks to avoid a repeat of the ethnic violence left more than 1,100 people dead and 600,000 displaced following the 2007 election. Officials, candidates and media have made impassioned pleas for peace this time.
The two leading candidates vying for the presidency condemned the Mombasa attacks. The prime minister, Raila Odinga, called it a "heinous act of aggression" during a historic exercise. The deputy prime minister, Uhuru Kenyatta, who is facing charges at the international criminal court, said he was discouraged but sure that the security situation would be brought under control.
Authorities flew 400 extra police officers into Mombasa to increase security. The UN restricted the movement of its staff on the coast because of the violence.
Elsewhere, millions of Kenyans were queuing patiently and peacefully to vote in what officials described as a "huge turnout", despite some problems with a new computer system. Anti-fraud fingerprint voter ID technology being used for the first time broke down in many areas. Officials admitted that many polling stations had opened late and there were problems with transporting election materials.
In the early hours before voting, some Kenyans blew whistles and trumpet-like vuvuzelas to wake up voters. In the capital, Nairobi, there were few cars on the streets but long lines of people snaking for several hundreds of metres.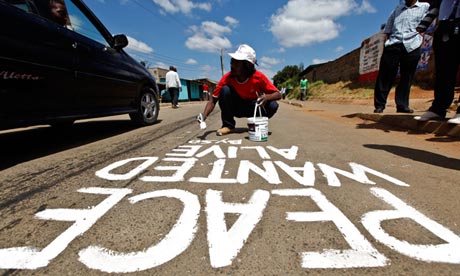 In Kibera, the biggest slum in Africa and a potential flashpoint, a man in a Manchester United shirt could be seen painting "Peace" in the middle of the road. Speed bumps had been decorated with the words "Peace wanted alive" and "Peace love unity" with the CND symbol.
Thousands of people queued patiently next to goats, open sewers, piles of uncollected rubbish and walls coated from top to bottom in campaign posters. There was a big turnout at Kibera primary school, where Odinga, also the local MP, cast his vote.
"It's important to vote because in the past politicians looked after their own needs, but now I'm going to vote for a person who will bring change in society," said Eric Wasike, 27, a computer engineer. "All of us are optimistic. No matter what the outcome, Kenya will remain Kenya. We don't need to resort to violence to get our rights.
"The entire world is watching us and we are going to set an example. We don't want a repeat of what happened last time."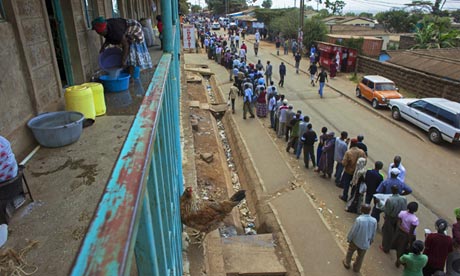 Some people had been waiting since the early hours and were frustrated by a lack of computers owing to flat batteries at some polling stations. But Ibrahim Hassan, 49, a driver, said: "It's OK to wait because we are trying to make history. If you want to do something good you have to be patient."
In the Starehe constituency, voices were raised as people argued with officials, but the mood was mostly calm.
Mohamed Mahmoud, 54, a retail manager, had been waiting since 7am. "It's the first time I've seen so many people eager to come out and vote," he said. "Definitely it will end up peacefully. People have learned a lesson from 2007. The new constitution has changed the landscape. Both sides have persuaded Kenyans to accept defeat peacefully and I don't think they will back up on their word."
Mohammed Ahmed, 23, a student, was stuck at the back of the long queue. "I feel disgusted, I feel like going home. There's an option to wait until 2017. But I think I'll wait."
Adding to tension, the Islamist militant group al-Shabaab repeated calls for Kenya to withdraw its peacekeepers from Somalia, and called on Muslim Kenyans to boycott the vote.
A grenade attack on a police post in Garissa, a city near Somalia, killed two civilians, police said. A bomb exploded in the Mandera area, also near the border, causing no fatalities.
Some 99,000 police officers are on duty during an election in which some 14 million people are expected to vote.
Along with the presidential race, there are closely contested elections for senators, county governors, members of parliament, female representatives in county assemblies and civic leaders.
Provisional results could emerge hours after polls close at 5pm, although the election commission has seven days to announce the official outcome. Polls suggest the election could go to a run-off, provisionally set for April.